Ecommerce Website Audit
Schedule a Call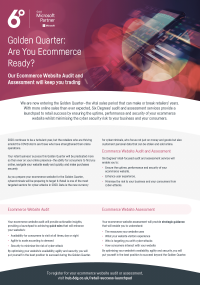 Golden Quarter 2020: Are You Ecommerce Ready? Our Ecommerce Website Audit and Assessment will keep you trading and maximise revenue during peak.
We are now entering the Golden Quarter—the vital sales period that can make or break retailers' years. With more online sales than ever expected, Six Degrees' audit and assessment services provide a launchpad to retail success by:
Ensuring the uptime, performance and security of your ecommerce website.
Enhancing user experience.
Minimising the cyber security risk to your business and your consumers.
Complete your details and we'll be in touch to discuss your requirements.